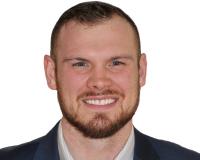 Areas of Expertise: Single-Family Homes, Rehabs
Professional Designations:
Biographical Info for website and promo materials: First year realtor and real estate investor. Previously sold medical surgical equipment and before that I played professional football in the NFL. I am a father to a baby girl, Mia, and expecting another daughter very soon. Married to my beautiful wife, Jackie, for 2 years and have been together since high school. Love our dogs and spending time outdoors.
Send Austin a Message